At Sanchez Jewelry our customers have a variety of beautiful and one of a kind 14k, 18k & 925 silver items to choose from. Baptisms to weddings we have every special occasion covered, so that you can always treasure your precious memories. We also do custom jewelry and repairs. In addition, we also buy gold at top prices. At Sanchez Jewelry we pride ourselves integrity & honesty and treat our customers like family.
Salvador and Irma Sanchez had almost been married for three years when it occurred to Irma that she had a great affinity for jewelry. She realized if she worked in the area she most took an interest in, work would be a lot more fulfilling. Irma began selling jewelry in the San Fernando Valley of California. At first she didn't have much of a variety,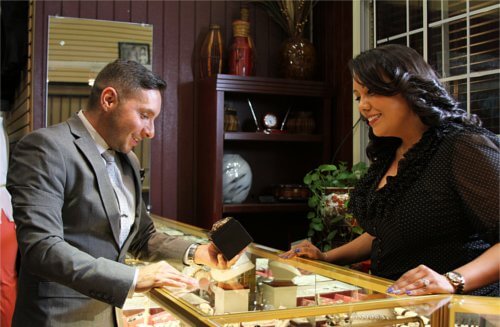 since she sold whatever was physically possible to carry around to display door to door or at local beauty salons. After sometime of selling jewelry, Salvador noticed the excellent relationships his wife had built with her customers over a short period of time and decided to introduce her to vendors with a bigger and better selection of quality jewelry. He also gave her the idea to begin selling in a small town, about an hour and a half north, called Bakersfield. It was a town that was experiencing rapid development and to date remains as one of the fastest growing towns in California. After selling in swap meets and different locations in plazas, Sanchez Jewelry was lucky enough to have found the perfect spot to establish themselves inside the Mercado Latino plaza in Bakersfield, California. This has been the company's main and (currently) only location for about 15 years. At Sanchez Jewelry we strive to provide customers with friendly and professional customer service. At our location, our sales representatives are trained to help identify your quality jewelry needs within any price range.